In my lifetime, gay people could be prosecuted for being in a loving relationship. Now, those same couples have been able to get married and celebrate their love for what it is. That day, Holyrood was at its best – robust debate, high emotion – democracy in its purest form. For me, it's when this Parliament came of age; when it helped push Scotland forwards.
Ruth Davidson, CONS
The campaign for equal marriage is one of the longest and most passionate to have been fought across the modern world.
The Equal Marriage campaign in Scotland called on the Scottish Government to legalise same sex marriage and mixed sex civil partnership in Scotland. The campaign was a partnership involving, amongst others, the Equality Network, NUS Scotland, the Scottish Youth Parliament, LGBT Youth Scotland and Stonewall Scotland.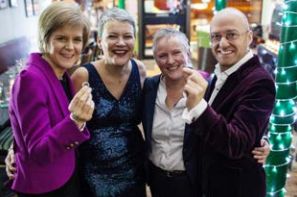 During the 2011 Scottish Parliament elections, First Minister Alex Salmond was asked on TV if he supported same sex marriage. He said he did, and the SNP agreed to hold a consultation if they got back into government.
Following a consultation which attracted 77,500 responses, the Scottish Government announced it would legalise same sex marriage.
A key message was that the ban on same sex marriage in Scotland was discriminatory and not in keeping with a fair and progressive Scotland. Campaigners also pointed out that it would give religious and belief groups in Scotland the right to choose for themselves whether or not to conduct same sex ceremonies.
While many religious groups opposed the legislation, a coalition of 45 religious leaders and 25 religious groups launched the Faith in Marriage campaign supporting it. Opinion polls and consultations showed around two thirds of the public believed that same sex couples should be allowed to marry.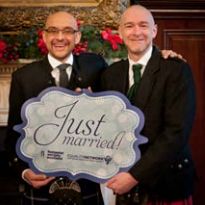 Sophie Bridger, campaigns, policy and research manager at Stonewall Scotland, said: "The same sex marriage legislation was a landmark moment of legal equality for lesbian, gay and bi people in Scotland.
"It was a signal to same sex couples all over Scotland that their love was just as important as anyone else's. Being able to marry has brought a great deal of joy and happiness to many same sex couples across Scotland. But we always knew that this was not the end of the road there is still a lot to do to do make sure all LGBT people are accepted, without exception."
The Marriage and Civil Partnership (Scotland) bill was introduced in June 2013 and came into force on 16 December 2014. Civil partnerships could be exchanged for marriage certificates from that date, with the first same sex marriages taking place on 31 December 2014. The Scottish Episcopal Church decided in 2017 to conduct same sex marriage. A Church of Scotland committee is drafting church law on the issue and is due to report back this year.
By the middle of 2018, 4401 same sex marriages had been registered in Scotland. The Social Attitudes Survey 2015 revealed a huge rise in support for same sex marriage. More than two thirds of people (68 per cent) agreed that same sex couples should have the right to marry, compared with just two-fifths of the public 41 per cent) in 2002.
The bill passed by 108 to 15 votes – at the time, the third biggest proportion of votes in favour of equal marriage in the world.
Previous: Social Security Next: Right to Roam
Page last modified on 30th January 2020