LINK ensured that there was a coordinated effort rather than a piecemeal approach to the campaign. If an MSP had a question it was possible to approach a single body to obtain an overview. MSPs were lobbied by a single organisation, making it easier for them to manage their time and ensuring that no contradictory messages were provided.
Bill Wilson, SNP
Marine life across the world faces a battle for survival, as climate change brings rising temperatures and plastic pollution threatens species. However work to protect Scotland's seas has been underway for many years, as environmental groups aim to safeguard the huge variety of creatures that live in our waters.
Marine resources are vital to Scotland – with 61 per cent of UK waters within Scotland, internationally important wildlife and an economy dependent on a thriving marine environment for food and tourism.
But a decade ago a lack of effective protection had resulted in a decline in the health of Scotland's seas. Since 2007, marine and environmental charities have worked together through the Scottish Environment LINK partnership Save Scottish Seas, including the Hebridean Whale and Dolphin Trust, Marine Conservation Society, National Trust for Scotland, RSPB Scotland, Royal Zoological Society of Scotland, Scottish Wildlife Trust, WWF Scotland and Whale and Dolphin Conservation. The partnership secured world-leading Scottish legislation, putting the health of our seas on the road to recovery.
The Marine (Scotland) Act 2010 required creating a network of Marine Protected Areas (MPAs) and a National Marine Plan for Scotland's marine environment. With marine conservation devolved to the Scottish Parliament, the campaigners pushed for a range of measures to help improve protection.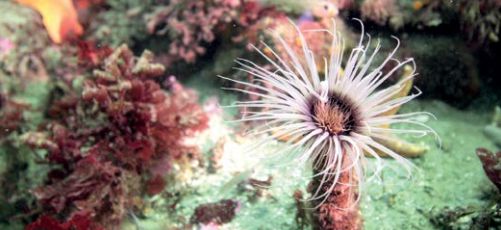 Save Scottish Seas partnership convenor Calum Duncan, of the Marine Conservation Society, said: "A combination of expert reports, targeted advocacy, parliamentary and stakeholder events, and a campaign with over 15,000 supporters, helped us engage with all the political parties, commercial and other user groups, and the public."
Save Scottish Seas shifted rhetoric to reality through research, workshops and conferences, MSP site visits and public campaigning. Most visibly, the Don't Take the P (out of MPAs) campaign in 2014-15 harnessed 4,700 voices of support to help secure protection from damaging fishing activities in the 20 most vulnerable inshore MPAs.
But what has the act achieved? Commitment to a Marine Protected Area (MPA) network, 31 new MPAs and an ecosystem-based National Marine Plan secured by the legislation represent a major step towards reversing the historic decline in biodiversity that Scotland's seas have suffered.
Close engagement with officials, decision makers and industry, bolstered by strong public support, ensured duties on Scottish ministers, that would otherwise have been discretionary powers, were enshrined in the act. Civil servants invited and valued the expertise and input from the environmental voluntary sector, bolstered by dedicated capacity to meet the high workload.
Duncan continued: "Whilst challenging to unite support and political will for ambitious legislation, it is another matter to maintain that ambition through delivery and implementation at a consistently high level nationally and regionally. The value of co-ordinating this collective voice cannot be overstated in placing and keeping the bigger picture of ecosystem recovery in the minds of decision makers."
Previous: Smoke Free Public Places Next: Abolition of Tuition Fees
Page last modified on 30th January 2020