Every year, about 100 organisations completeSCVO's Digital Checkup. This is only a small proportion of the organisations we support, but it's still a useful snapshot of how digital capability in the voluntary sector is changing over time.
In this blog I'll take a look at which tools organisations are using, what they are planning to prioritise next, and what they have been highlighting as barriers to digital change. 
Obviously organisations of all sizes have taken huge strides in digital since the start of the pandemic. But it's been fascinating to see what the data shows about this progress. This blog draws on checkup results from the last 6 months, covering just over 50 organisations. 
In our next blog, we'll look at checkup results by organisation size and area of work.
Lots of organisations are 'in the cloud'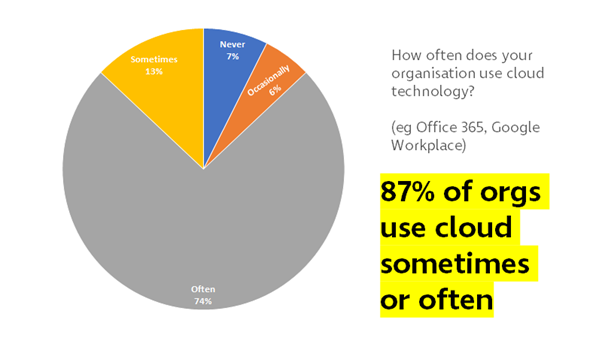 Not very surprising, but pleasing to see that the vast majority of organisations are starting to see the benefits of a cloud-based collaboration platform like Microsoft's Office 365 or Google Workspace.
2.Lots of organisations are using online collaboration tools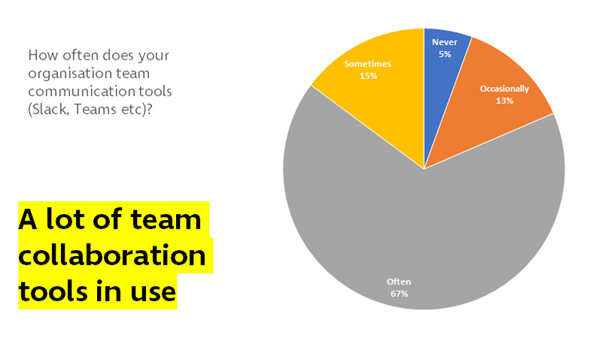 Again, this confirms our experience that more and more organisations are using online tools to work together. But underneath this result, we know that people really want two kinds of training: one, they want help with how to work well as a remote team. Secondly, they want practical training on how to unlock the full features of online collaboration tools.
3. There is a *lot* of videoconferencing going on...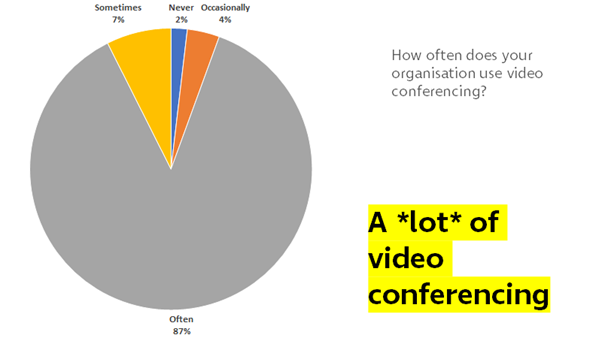 An overwhelming majority of organisations are doing a lot of video calls. But although the tech is easier than ever before, we've seen more and more organisations wondering about how to use this technology effectively and avoid burning out their teams.
4. Everyone (yes, everyone) is on social media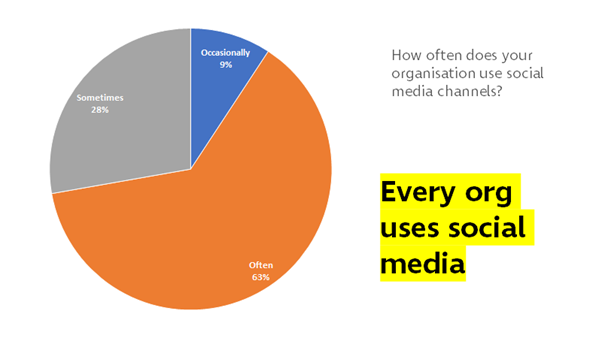 A clear result here – every org has some kind of social media presence. This makes sense as they are easy tools to start using. But using them well is another question...
5. Not all websites are mobile-friendly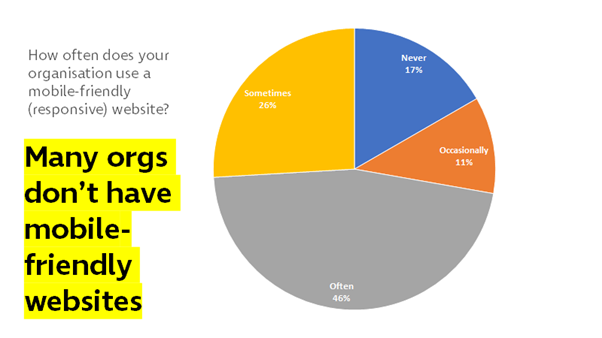 This is a striking statistic when you think about how many orgs are using social media. A sizeable chunk of organisations don't have a mobile-friendly website. If you're sharing links on social media, it's very likely that your audience will click those links on a mobile device – so it pays to make your website mobile friendly. This also helps with search results and accessibility.
6. A third of organisations aren't using databases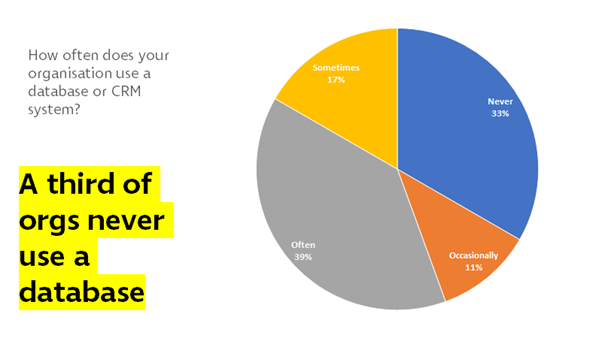 This one boggled my mind a bit – a third of organisations never use a database. Yes, databases can be a complex digital tool to set up and use, but there are lots of basic options out there. And with so much activity happening online these days, not using a database seems a serious gap in capacity.
7. 70% of orgs run webinars sometimes or often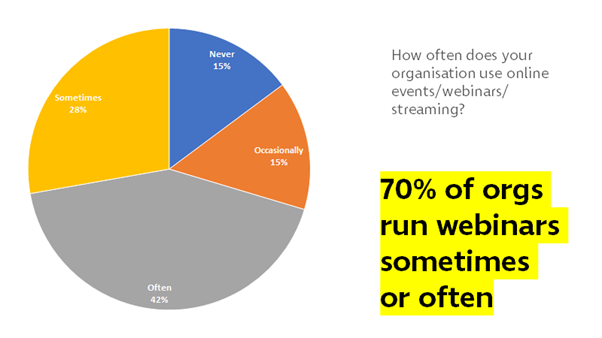 Not very surprising given the restrictions and impact of the pandemic, but a sizeable number of organisations run online events sometimes or often.
8. Website data – not so much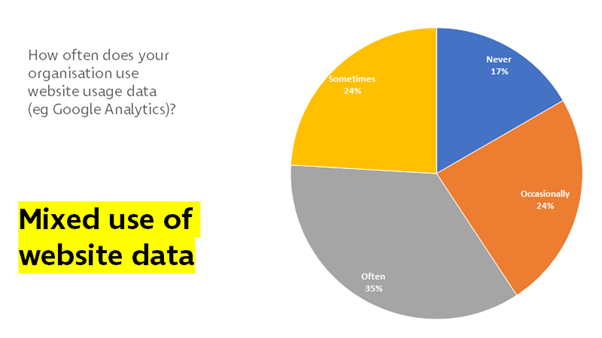 A very mixed picture on use of website data, with just over a third of organisations using it often. 
9. Not so much online fundraising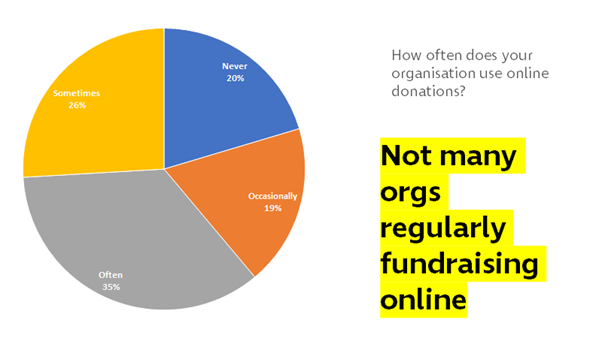 It's a similar picture with online fundraising, with just over a third doing this often, and 20% not doing it at all. But it's worth noting that some voluntary sector organisations don't fundraise directly from individuals.
10. Very little online booking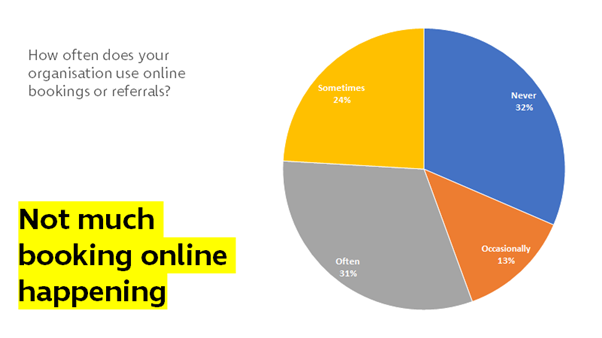 A basic part of delivering online services, I was surprised to see so few organisations using online booking or referrals. These can be built on quite simple pieces of technology, so many more organisations could pick them up in future.
11. Very little (online) chat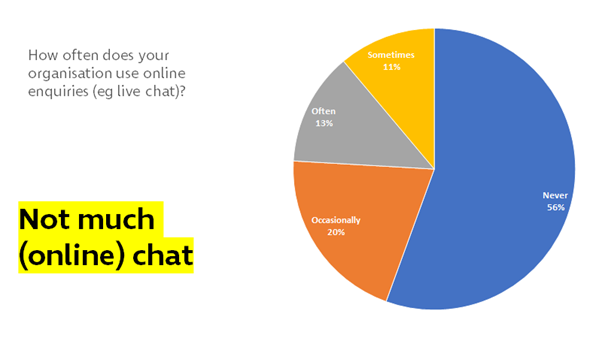 Even fewer organisations are using online chat. This is quite a contrast with online retail, where even the smallest shops are starting to use this more often. Again, the technology to support this has become much simpler and more flexible. But to make it work well, you need to do quite a bit of planning and training with your team.
12. What next?
We ask organisations what they would prioritise in terms of digital projects over the next few months. This wordcloud pulls out some key trends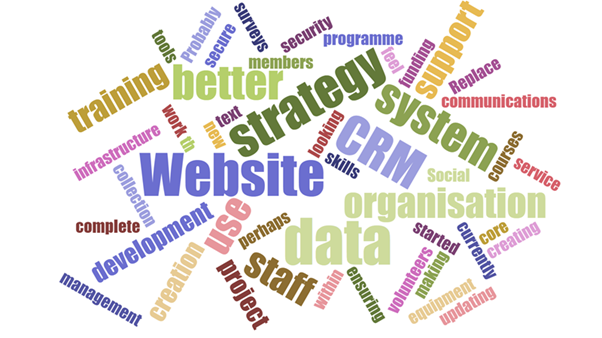 This matches what we saw earlier in terms of capability gaps – many orgs are looking at improving their website or setting up a database.
14. What is holding organisations back?
Finally, we have a wordcloud summarising what barriers organisations feel are holding them back. Funding, resources and time feature strongly, but so do knowledge and confidence.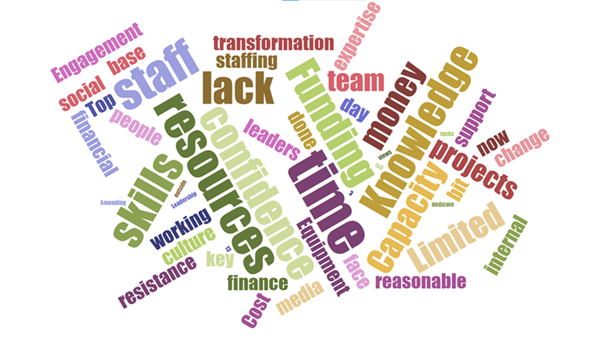 When organisations complete our digital checkup, they have the option to book a free one-to-one support call. This has given us a rich source of fine-grained data on what challenges people are currently facing. The overall picture we are seeing is that lots of organisations have made rapid progress with the 'easy' digital channels like social media and video-conferencing, but they now need to consolidate their digital systems (things like databases, using cloud-based tools properly) so that they can continue to grow their capacity.