28th March 2018
Posted in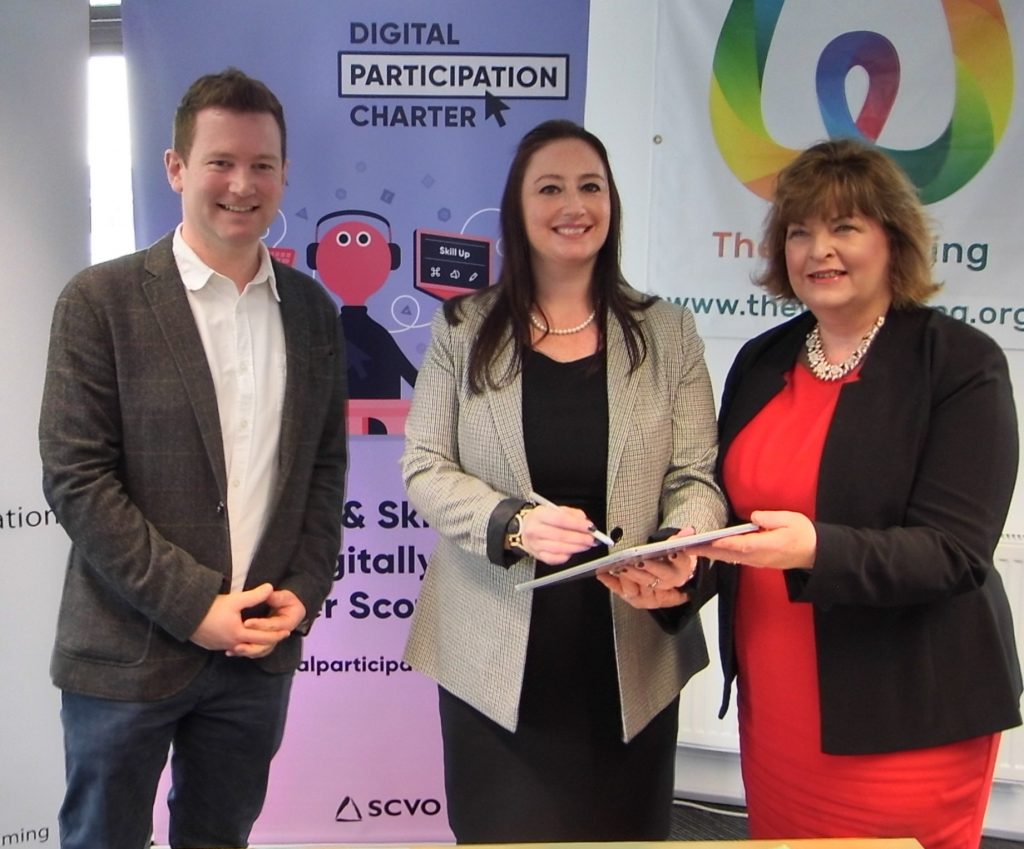 SCVO are thrilled to announce that Citizens Advice Scotland today signed Scotland's Digital Participation Charter, making it the 500th organisation to commit to work alongside the other signatories to ensure that everyone in Scotland can pick up the basic skills required to make the most of the internet.
The Digital Participation Charter is bringing together organisations from all sectors that want to work together to help the 800,000 people in Scotland, and the tens of thousands of charities and small and medium-sized businesses, who lack the basic digital skills required to get things done online and benefit from the digital world.
In an event held today at The Welcoming in Edinburgh, attended by the Cabinet Secretary for Culture, Tourism and External Affairs Fiona Hyslop, the charter was signed on behalf of CAS by Trustee Karen Nailen. She said:
"CAS is delighted to join with SCVO and the other charter signatories in helping to create a more digitally confident nation. Together we can make sure all Scots are connected to the opportunities that the digital world provides.
"The CAB network can play an important role in supporting digital participation. We have a national reach: with almost 300 locations across Scotland, we help one in fourteen adults every year – 34% of which have limited or no access to the internet.
"We also have over 3,000 staff and volunteers and we want to ensure those individuals have the skills and confidence to support clients to get online."
Cabinet Secretary for Culture, Tourism and External Affairs Fiona Hyslop said: "The Scottish Government is committed to increasing digital participation and ensuring that everyone gets the opportunity to enjoy the social, cultural and economic benefits digital skills can bring.
"Our Digital Participation Charter Fund is a key part of that work. The funding I'm announcing today will be focussed on reducing isolation and loneliness and helping people get back into the world of work.
"I would like to thank all of the 500 organisations who have supported this work by signing up to the Digital Participation Charter – including our latest signatory, Citizens Advice Scotland."
David McNeill, Director of Digital at the Scottish Council for Voluntary Organisations (SCVO) said:
"We're delighted Citizens Advice Scotland have become the 500th signatory of Scotland's Digital Participation Charter, committing to building basic digital skills as part of the vital work they do across the country.
"They join an active community of organisations across the public, private and third sectors who are taking action to support the 800,000 people in Scotland who need help to make the most of new technology and the internet.
"The Charter Fund has also enabled community projects to assist over 15,000 people to improve their job prospects or reduce social isolation by developing basic digital skills. We are grateful for the continued support of the Scottish Government to increase digital participation, ensuring the benefits of the internet are available to everyone – and with £200,000 available in Round 6 of the Fund, we're encouraging third sector organisations to apply."