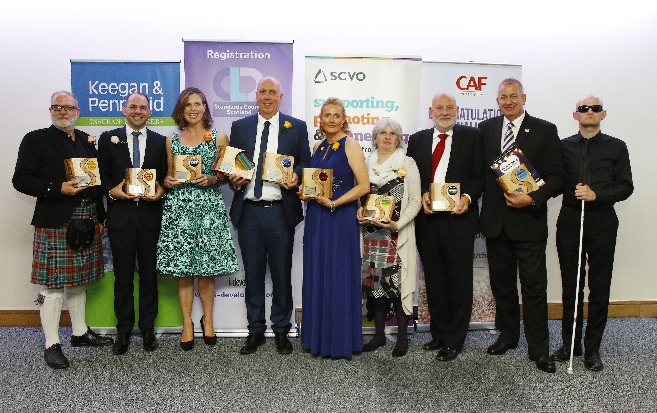 Charities and individuals from across Scotland have been recognised for the life-changing difference they make at the 2018 Scottish Charity Awards, which took place at the Edinburgh International Conference Centre on Thursday 14 June.
Organised annually by the Scottish Council for Voluntary Organisations (SCVO), the Awards celebrate the amazing work that people within charities and community groups do every day, all over the country, to help those in need and raise awareness of important causes.
Andrew Burns, Convener of the Scottish Council for Voluntary Organisations (SCVO), said: "A huge congratulations to our winners and all of this year's finalists. Each of the 40 individuals and organisations shortlisted make a huge difference to the communities they work with, and I'm delighted that we have been able to bring the third sector together to both recognise and celebrate their achievements. We received over 13,000 votes for the People's Choice Award so I would also like to thank all those who contributed to the evening by voting for their favourite charity. A wonderful night had by all."
This year 40 finalists were shortlisted, with one charity winning two awards, and an additional two finalists receiving special commendations for their work.
The winners are:
Charity of the Year and the People's Choice Award: Blood Bikes Scotland
Blood Bikes Scotland won both the Charity of the Year Award and the People's Choice Award for 2018. The organisation provide a free-of-charge medical courier service to NHS hospitals in Lothian and the Borders, with plans to expand into the Fife region in 2018. Every pound raised is through the team's own fundraising efforts, and they have made a substantial saving to the NHS over 12 months, while contributing to improved patient care and services. Chairman John Baxter said: "It is fantastic to be recognised by the Scottish Charity Awards for the work we do on behalf of the amazing NHS. We're also so grateful to all those who voted for us in the People's Choice Award, it really means a lot and we're a bit overwhelmed! We have a great team of volunteer riders, controllers and fundraisers who commit their time and energy freely and enjoy putting something back into the NHS, which does such a fantastic job."
Leading Light: Ewan Aitken, Cyrenians
Ewan lives and breathes Cyrenians, and the organisation's mission to support the excluded. With incredible dedication to his role, the organisation and its clients. He consistently upholds the Cyrenians values of compassion, respect, integrity and innovation, while finding ways to promote the organisation's work. Ewan said: "To win this award is truly humbling. In truth it is really an acknowledgement not of anything I have done but of the dedication and commitment of my extraordinary colleagues at Cyrenians, staff and volunteers – and perhaps even more so the amazing people we journey with who find the courage and the capacity in themselves to leave their tough reality for a new place of hope. My grateful thanks goes to all of them and to SCVO for this award."
Charity Champion: Fiona Shapcott, Kids Love Clothes
Fiona Shapcott believes in the dignity and respect of those she supports and envisions that no child in Edinburgh and Lothians should want for appropriate clothing. In 2009 she single-handedly set up Kids Love Clothes in a Ratho farm unit, and has since helped over 5,500 children through her team of 100 regular volunteers. Fiona said: "Thank you so much for this award. It's such a surprise to even be nominated. When I first started Kids Love Clothes, I would never have thought that I'd be standing here a few years later. Kids Love Clothes is truly a team effort and so I'm delighted to be picking this up, it's also for the whole team too. Thank you very much!"
Cracking Campaign: PrEP for Scotland – HIV Scotland
'PrEP for Scotland' reinvigorated Scotland's HIV prevention efforts, enabling 20,000 people to access information about a new HIV prevention drug called PrEP. In the first eight months of the campaign almost 1,200 individuals were prescribed PrEP in Scotland, and by adding PrEP as a prevention tool many people are risk of HIV are now accessing services for the first time. HIV Scotland Chief Executive George Valiotis said: "The PrEP for Scotland campaign shaped a public health solution that has changed people's lives. The campaign united the full diversity of people affected by HIV, with every level of decision making in Scotland. Working within this outstanding level of cooperation felt like a victory, to have it recognised by this prestigious award is an exceptional achievement for all involved."
Pioneering Project: Personal Safety Courses for the Blind & Visually Impaired – The Scottish Centre for Personal Safety
Blind and visually impaired people are more than twice as likely to be attacked as a sighted individual. Personal Safety Courses for the Blind and Visually Impaired have been developed by blind people to combines personal safety advice with practical self-defence skills and counselling techniques. By reducing fear and increasing confidence, course participants are empowered to realise that, regardless of their disability, they are able to deal with verbal and physical confrontations. Volunteer Executive Manager Alan Bell said: "We are delighted to win the Pioneering Project Award for our work in developing confidence building Personal Safety courses for people who are blind or visually Impaired. It is a great honour to have our work recognised in this way. Thank you to all who helped make this possible including our registered blind instructors David Black and Michael McAllister plus Scottish War Blinded and the Forth Valley Sensory Centre who all helped us develop this training. Thank you."
Celebrating Communities: Point & Sandwick Trust
Point and Sandwick Trust funds and supports development of community projects in its villages on the Isle of Lewis and the wider Western Isles. It built and now operates the UK's largest community wind farm – Beinn Ghrideag – a £14 million project which is 100% community owned and currently produces £800,000 a year in net income for the local community, funding a multitude of projects from respite care services to community cafes. General Manager Donald John MacSween said: "We are delighted to be recognised by the Scottish Charity Awards for our work in the local and wider Western Isles community. As a 100% owned community organisation, we are very proud of what we have achieved to date and look forward to a bright future continuing our mission to promote and support local people, charities and projects."
Terrific Trustee: Robert Nolan, Deafblind Scotland
Chairman Bob Nolan is deafblind and a remarkable example of what people can accomplish with support and self-belief. Bob began work as a volunteer with Deafblind UK in 1998 and was a member of the original Scottish Management Committee. A determined fundraiser and keen marathon runner, Bob has completed the London race four times and Edinburgh's three times, all to raise funds and awareness for the organisation. Fellow trustee Alison Brownlie collected the award on Robert's behalf: "We are overjoyed that Bob has won this wonderful award. Thank you to everyone who voted for our Chair and celebrated the significant achievements of deafblind people. Unfortunately Bob was not able to accept the award in person as he is currently embarking on the 3 Peaks Tandem Challenge, so has asked me to accept the award on his behalf."
Demonstrating Digital: Marie Curie
As more people are living with terminal illness, the team at Marie Curie felt it was vital to ensure they invested in technology to help deliver high quality care for more people. It was clear that continuing with paper records for patients is untenable, so by mobilising staff across multiple teams the organisation has now implemented an electronic patient record system, meaning all patient information is now in one place and information can be shared with health professionals in future. Miriam Watts Manager Marie Curie Hospice, Glasgow, said: "We're delighted to receive this award acknowledging the impact of the Paperless Hospice project. Thank you to every staff member who enabled us to smoothly transition from paper to digital records. We're already seeing the benefit of the new system with lots more potential to come which will hugely benefit families we support."
Congratulations to all our winners & finalists!
Click here for more images from the evening (credit Lewis J Houghton).