What the data tells us
20% of the Scottish population don't have all the essential digital skills.
7% of the Scottish population have none.
Those without essential digital skills are likely to be facing other forms of social exclusion and inequality – they are more likely to be older, disabled and from low income households.
People living in social housing are 20% less likely to have the digital skills they need, than people who rent privately.
But there are a range of different approaches that can make a big difference to these statistics, and support wider and more equal digital access and skills for all tenants.

What our project is doing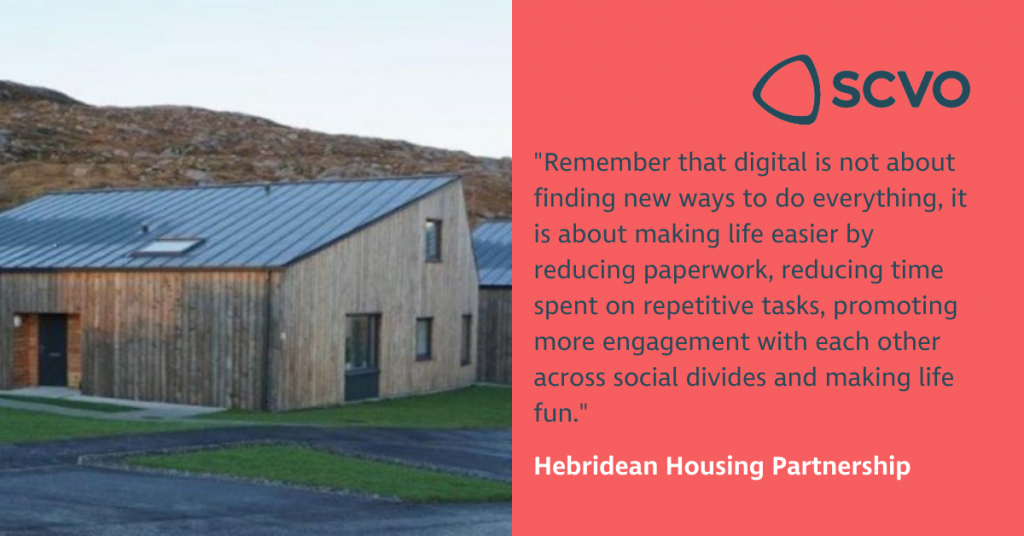 We've been working with 29 Housing Organisations from across Scotland, offering them a fully funded comprehensive training and support opportunity.
Our support package included:
working to identify a digital motivator within the organisation,
offering a two day residential bootcamp to inspire and support the motivator
delivering short and informal surgeries with digital champions from across the staff team
supporting them to record and monitor digital inclusion activity
supporting access to credit rated qualifications for involved staff to aid career progress
These digital champions will be in roles that support people who are facing multiple disadvantages. They will make sure that digital is a tool to overcome some of these disadvantages, rather than something that increases inequalities.
We aren't reinventing the wheel, but are building on what works, and where the greatest needs are. We'll be sharing our learning and reflections from throughout the project so watch this space!
Here's what the Housing sector is saying

"Digital Participation is important in every sector but especially in Housing. We frequently engage with tenants, residents and the wider community not just on issues around bricks and mortars but also welfare, community inclusion, education and culture. Whether it's supporting a tenant to get online to pay their rent or report repairs, encouraging people connect to friends and family via social media or just talking about your favourite Netflix show, these opportunities need to be embraced."


Rory Brown. Govan Housing Association
Here's what one of our Digital Motivators had to say from our initial bootcamp back in April 2019 :
How inspiring it was to be in a room full of dynamic, like-minded colleagues from different associations and housing providers who have our customers at the core of what we do, who see digital as an integral part of our service rather than as an afterthought. The 2 day session was quick paced and engaging, and I came away not only with a plan of how to move forward, but with existing networks strengthened and new and exciting links formed that will help me to implement this plan for the benefit of customers and colleagues alike.


Debs Allan, Linston Housing Association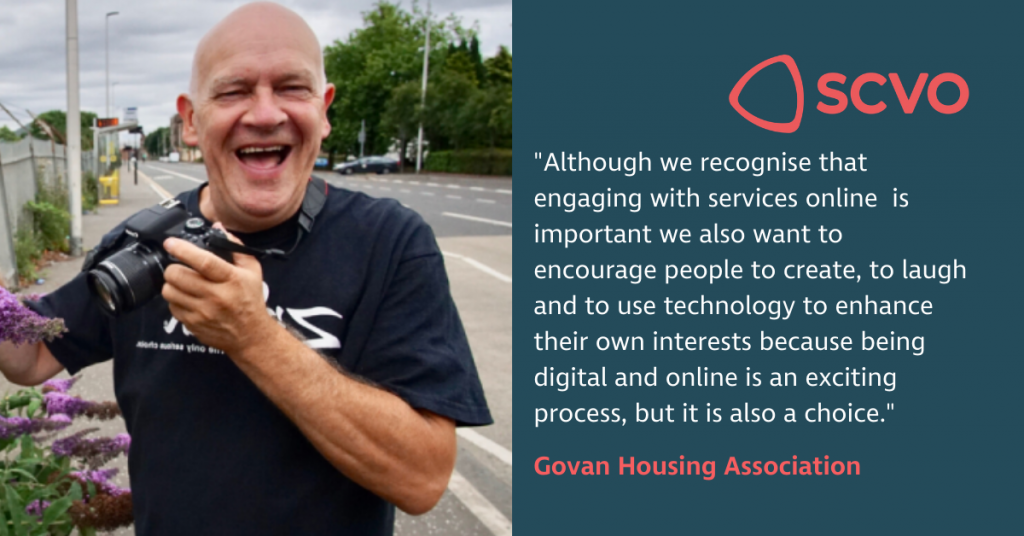 In partnership with Glasgow Kelvin College we have launched 3 new free SCQF credit rated qualifications for the housing sector.
Click here to find out more.
Our project reports, blogs and case studies
Project evaluation report
Our project and it's impact was formally evaluated by The Lines Between who engaged with our Digital Motivators, Digital Champions, the Tenants they supported and our project data.
Read about their conclusions and recommendations in the published report from April 2020 below.
Project progress and learning
Find out how are project progressed in it's delivery:
Digital Motivators reflections and top tips
Read about what our participating Housing Organisations' Digital Motivators have been up to and what tips they would share following their Bootcamps below:
Digital Champion and Tenant Stories
So how have our participating Housing Organisations' Digital Champions been supporting their Tenants and what difference has it made?
Read about their digital inclusion activities and the impact in their case studies below; from tackling isolation, building confidence to saving money, there's lots to inspire!
Our project podcasts
Have a listen to Hebridean Housing's Digital Champions reflecting on the importance of digital inclusion for their tenants:
Our project videos
Here's our 'Call to Action' animation that our participating housing organisations were able to use to encourage their tenants to take up Digital Champion support:
On the 9th April 2020 Eilidh Little, SCVO Digital Development Officer and Rory Brown, Govan Housing Association's Community Inclusion Assistant delivered a webinar for the Chartered Institute of Housing on digital inclusion during social distancing:
Get in touch with us!
If you're interested in our project or have useful resources to share then get in touch with us by tweeting @digiscot or by emailing digital@scvo.scot.
Page last modified on 12 April 2021