Like many who attended The Gathering on 19 - 20 February 2020 at the SEC in Glasgow, I'm still digesting all the learning, interesting conversations and following up with lots of the great new contacts I met. I had a prime spot over the two days that allowed me to experience this – on SCVO's newly branded main stand.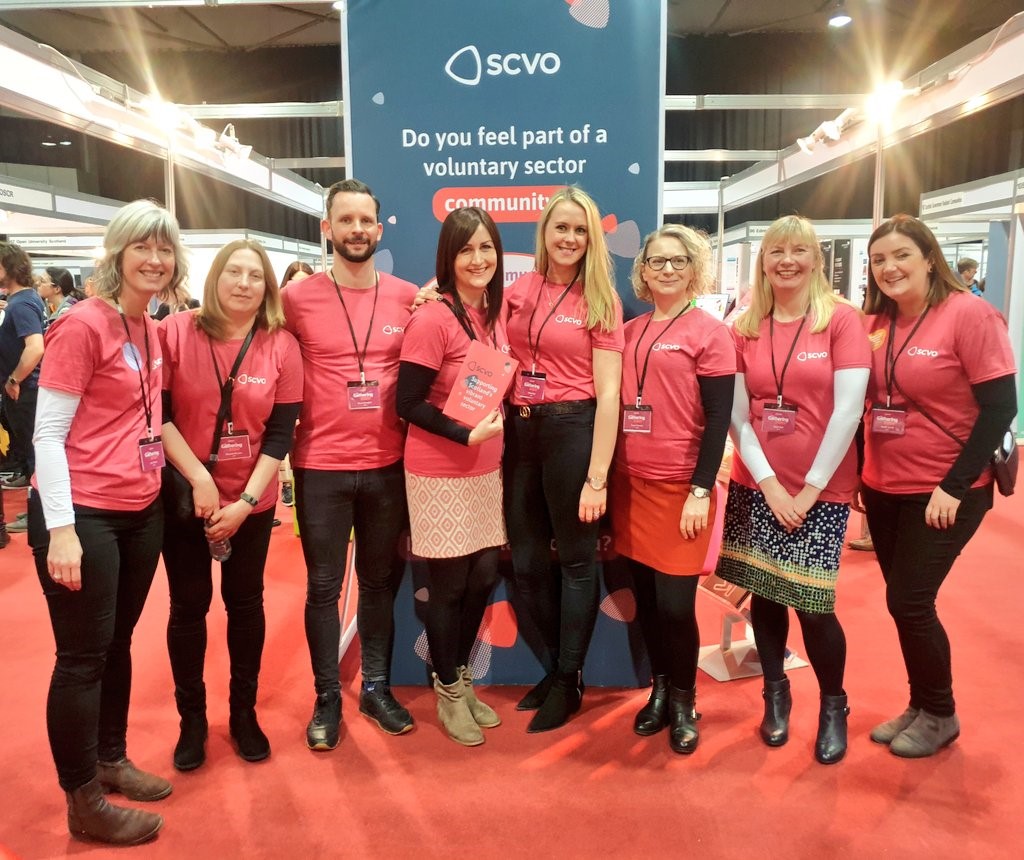 Joining my fellow SCVO colleagues from across the organisation, we were primed and ready to listen, learn and impart relevant knowledge to the over 3000 people that attended across both days. 
Tasked to chat to stand visitors about the sense of community in the voluntary sector as a fun discussion activity, I actually found myself spending a large proportion of my time having interesting discussions, answering queries and providing guidance on SCVO's digital support and learning opportunities instead.  
These were varied – both the people asking and the queries themselves.  Here's a snapshot: 
A Mens Shed Trustee looking for guidance on training for their users on how to make videos using their mobiles to demonstrate impact and promote their service. 
A staff member of a medium sized family support charity who was keen to learn more about our Senior Leaders Programme for their organisation. 
A key contact at the Improvement Service looking for ideas for supporting Community Councils on improving essential digital skills to build confidence and use of flexible tech to generate efficiencies. 
A Housing Association staff member asking about Cyber Essentials grant funding and looking for a steer on how to improve their own essential digital skills.  
There was commonality though - all the people I spoke to had sought out the SCVO stand to come and speak to us about digital.  They had or were also going to attend one of the seven digital inclusion or evolution themed sessions we were running as part of the varied programme, including topics on data, cyber security, flexible tech, embedding digital inclusion, essential digital skills and launching the Catalyst programme. 
This felt like a positive step forward! Raising the profile of 'digital' and its benefits the past few years across an already busy voluntary sector landscape of governance, regulation, funding, volunteer management and more doesn't come without challenges.  There will always be competing priorities. 
But seeing people actively seeking SCVO and our sessions out as they know that digital is no longer seen as a 'nice to have' and can in fact help to make managing those competing priorities a lot easier was something tangible that I'll take away from this year's Gathering.   
Of course, there's still lots of work to be done to embed digital across the sector to make even more amazing things happen but the willingness and open mindedness gives me hope.  It also fostered a 'sense of community' which was just as well considering my original task in hand!