For nearly 12 months now we have all been encouraged to work from home if we can.   The town and city centre offices where many of us had been based are now largely empty spaces, lying dormant, waiting on our return one day. As the months have drawn on our thoughts have shifted to what the future of work might look like and what this might mean for our teams:  "Do we need office spaces, can teams work from home full-time or will we be totally agile work from anywhere workers in the future?" 
SCVO has started to look at what this might mean for our staff and how we can support them going forward.  But we also wanted to know what our members were thinking too, so in January we asked them in a short survey and the responses were very interesting. 
Of the sample cross-section we surveyed, 74 organisations shared insights into their plans:   
60% have already made adaptations to their buildings to facilitate greater social distancing, with 80% of all respondents adding in enhanced hygiene regimes. 
54% of those organisations that leased were actively thinking about changing their lease or downsizing, with 7% moving to full time remote working with no office.  
Of those organisations who owned property, around 1 in 5 where thinking about selling or acquiring new buildings.  
The most interesting trend was in the future of work and the balance of work from home and office. The shift in thinking is best summed up in these before and after charts: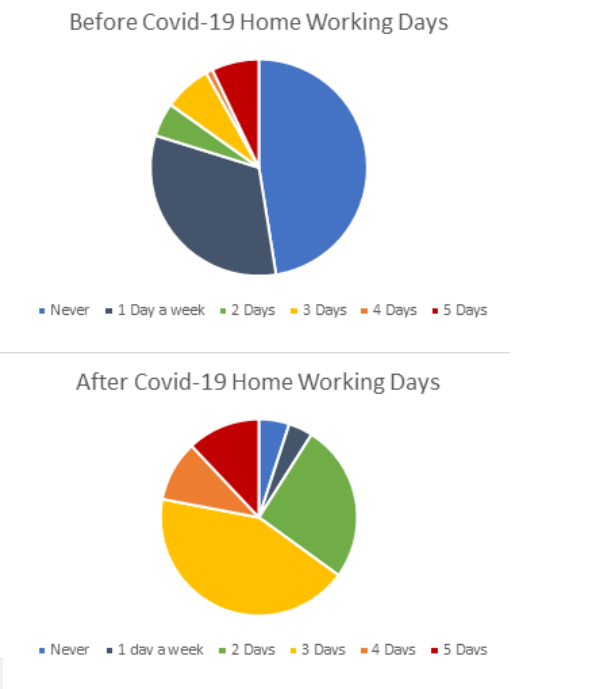 The potential move from a 'never' or 'ad-hoc' work from home approach to most respondents saying they anticipate 2-3 days' work from home is striking.   
Why the change and what could be the next progression? 
New and improved ways of working have allowed us all to start reconsidering how we could work in the future and that this might not be a temporary solution.  The rapid digital transformation that has occurred in many organisations, underpinned by a range of easily accessible collaboration, data management and cyber security tools makes our historic dependency on one central location for work less fixed than it has been in the past.  There are more options for people to work in the ways that suit them and their families, while employers are not confined by a short geographic reach when looking to hire talent.  The growth in cloud computing and general consumerisation of IT has led us to a place where we do have lots of options.  
While many organisations have found that their staff are just as - if not even more - productive working from their homes, feelings of isolation and concern for staff well-being are on the rise.  Those social interactions that are so crucial for many of us in our day to day working lives have been missing these past few months.  
But what if we could combine the newfound flexibility with options to still bring people together to share, create and flourish.  Could our places of work become hubs for social interactivity, creativity and wellbeing?  Could our productive spaces be our homes, where we could focus on more intensive tasks?  
If we stop thinking of our offices as a place were we situate row after row of desks for our staff to use day after day and instead a place where we intensify interactions through creative activities, cherishing them as collaborative social, and dare we say it, fun spaces where we come together.  If our buildings become a space that is a true hub for people, with some basic design changes they could really become special places and the future of work would look very different.